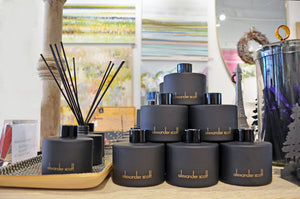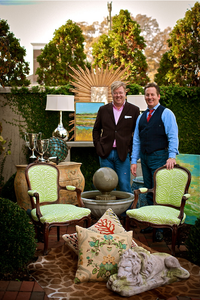 Proprietors of Alexander Scott Home,
David Alexander Newcombe and Russel Scott Griffith, developed their amazingly curated shop of lighting, furniture, fine gifts and art in 2011. Like so many other entrepreneurs, Hugh McColl believed in the concept and leased his fine art center to the two where the business launched. This collaboration led to successfully building on the rich tradition of luxury interior home offerings in Charlotte. Alexander Scott Home stands apart as an oasis that offers unique, refined and artistic designs to create an extraordinary home.
Alexander Scott Home believes your design aesthetic and your surroundings influence all facets of your life.
It is important to surround yourself with beautiful items that speak directly to you and provide a sense of comfort. Great design is about what fills you with joy, not the latest trend. All spaces hold the potential to be extraordinary. The goal of Alexander Scott Home is to offer clients the extraordinary.
David and Russel have extensive corporate retail experience. Their resumes pay homage to The Bombay Company, Smith and Hawken and Ralph Lauren. Their professional experience allows their personal design aesthetic to shine and showcase their love of refined, whimsical and sophisticated interpretations of Southern, European and Asian design influences. 
Passion and integrity define the essence of Alexander Scott home. David and Russel have cultivated an extensive list of loyal clients. It is their belief that their clients are the most valued assets of their business and they strive to provide every client an exemplary shopping experience and industry leading service.
Charlotte, NC Store
ALEXANDER SCOTT HOME

Strawberry Hill
4914 Old Sardis Rd. Suite C1
Charlotte, NC 28211

Hours:
Tuesday – Saturday 11:00 AM to 5:00 PM Closed Sunday & Monday
(980) 819-7372
Private shopping available on request
Mt. Pleasant, SC Store
ALEXANDER SCOTT HOME

Bowman Place
1336 Old Georgetown Rd. Suite 105
Mt. Pleasant, SC 29464

Hours:
Monday – Saturday 10:00 AM to 5:00 PM Closed Sunday
(843) 416-8795
Private shopping available on request